"What you measure is what you get. Senior executives understand that their organization's measurement system strongly affects the behavior of managers and employees. Executives also understand that traditional financial accounting measure can give misleading signals for continuous improvement and innovation. Traditional financial performance measures worked well for the industrial era, but they are out of step with the skills and competencies companies are trying to master today."
Kaplan & Norton
More and more companies have found that creating and applying a "balanced scorecard" - a set of measures that gives senior management a fast and multi-dimensional view of the business - is an effective approach to managing business performance.
The balanced scorecard complements traditional financial measures (which tend to be a one dimensional view of past performance) with multi-dimensional, forward looking strategic measures of customer satisfaction, internal processes, and the organization's innovation and improvement activities.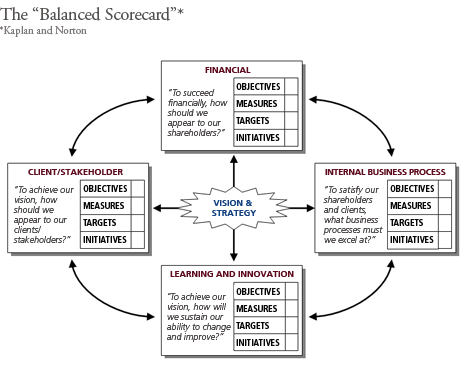 We work with you to create and implement a balanced approach. With vision and strategy at the centre of your activities, a balanced scorecard approach to management leads to improved decision making and problem solving and more successful strategy implementation.
---

What Sets Us Apart


People Advisory


Contact Us