"Corporate strategy is the pattern of decisions in a company that: determines its objectives, purposes or goals; produces the policies and plans for achieving these goals; and defines the business the company intends to be in, the kind of economic and human organization it intends to be, and the nature of the economic and noneconomic contribution it intends to make to its shareholders, employees, customers, and communities.
Corporate strategy defines the businesses in which a company will compete, preferably in a way that focuses resources to convert distinctive competence into competitive advantage."
Andrews and Christensen, Harvard Business School
"In real life, strategy is actually very straightforward. You pick a general direction and implement like hell. Strategy is an approximate course of action that you frequently revisit and redefine, according to shifting market conditions. It is an iterative process and not as theoretical as some would have you believe. When it comes to strategy, ponder less and do more."
Jack Welch
Why do so many organizations fail at Corporate Strategy? The answer is simple: weak strategy or poor execution.
Some will argue that a weak strategy executed well is better than a great strategy executed poorly. These are rationalization arguments. The bottom line is that strong strategy combined with strong implementation leads to successful strategic outcomes.
Corporate strategy has two parts: development and implementation. On the development side success starts with:
Vision

- strategic vision doesn't need to be profound but it does need to be conceptually clear and accessible to those who are asked to implement

Motivation

- leadership must be motivated in its attitude toward strategy. Strategy must be a "want to" initiative, not a "have to" initiative

Approach

- strategy must be inclusive. A top-down approach can be problematic for implementation. A bottom-up or middle-up approach better positions the firm for successful implementation
On the implementation side success starts with:
Communication

- strategy must be communicated frequently and effectively. The vision must be simple and clear and be cascaded throughout the organization

Management Commitment

- executive teams must dedicate more time to strategic discussion. Strategy is not a one-off event. Successful strategy is a disciplined, hands-on journey

Accountability

- strategy must be linked with financial performance

People

- performance incentives must be linked with strategic outcomes

Political Intelligence

- strategic change has friends and foes alike in any organization. Positively managing the politics of strategic change helps sets the stage for "enterprise buy-in"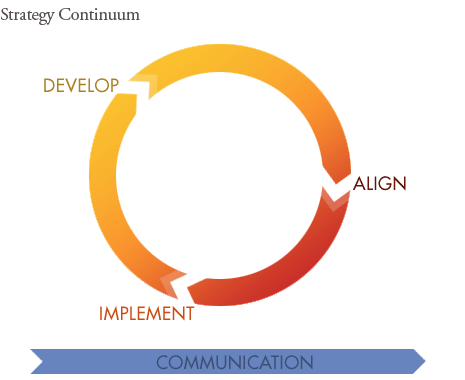 Strategy Development
Renowned economist Joseph Schumpeter once said that, "we always plan too much and think too little". We work with business leaders and their teams to focus on pragmatic thinking in order to determine how to best position their organizations in an ever-changing competitive landscape. We work with you to help evolve a shared view of the world, your company, and the future. We work with you and your team to develop and evaluate strategic alternatives and to choose and refine a strategic direction.
Alignment
Once a strategy has been developed it is critical to align your organization so that the strategy can be successfully implemented. This will create both competitive advantages for your organization and true economic value.
We work with you individually and/or you and your team to first evaluate the degree of alignment currently in place within your business. This can include alignment of business line/department strategies with your organization's overall strategy or, your people strategy or, your business processes. Then, we work with you to integrate an alignment process in your strategic planning efforts so that you can optimize your organization's potential.
Implementation
Solid execution involves planning and communication.
A plan has focused deliverables, a realistic timeline, and appropriately allocated resources. We work with you to ensure that you have all of these components in place to manage your implementation - big or small - successfully.
Also key to implementing is the communications effort. When senior executives ignore the importance of communications they can seriously undermine these efforts and even the best plans can fail. We work with you to develop these communications and integrate them into your planning and alignment processes thereby crafting the right message to the right people at the right time.
---

What Sets Us Apart


People Advisory


Contact Us