"At the most basic level, executive coaches serve as outsourced suppliers of candor, providing individual leaders with the objective feedback needed to nourish their growth...But in an industry without universally accepted standards, all the parties need to be clear about their goals and how to reach them."
Sherman and Freas, Harvard Business Review
Who can you rely upon for trusted feedback and counsel? Finding an objective sounding board inside your organization is a challenge for many executives. Often the perspective of an objective third-party can help improve executive effectiveness and business performance. This is where an executive coach can fill the void by providing an external, third-party sounding board to facilitate optimizing business effectiveness.
We offer our clients executive coaching but we have sought to delineate a field which is largely undefined. We look at coaching as a strategic enabler - as a means to facilitate effective business outcomes. Whereas many executive coaches focus only on the personal-side of executive coaching, we differentiate by also focusing on the business-side of executive coaching.
We work with each client as a confidential "talking partner" offering insight and perspective to assist them in achieving their personal and business goals.
In our view, business actions impact personal outcomes and personal actions impact business outcomes. For this reason, when we approach a coaching client, we look at both sides of the equation – personal and business. We find that this approach maximizes coaching results.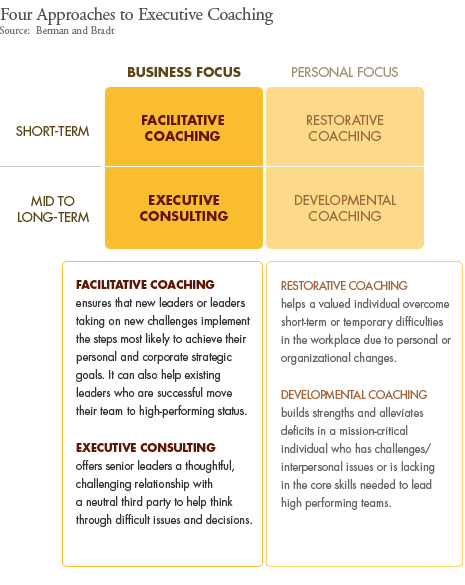 ---

What Sets Us Apart


Business Solutions


Contact Us